Bu yazımızda IIS Shared config sunucularınızda yaptığınız bir değişiklik sonrası karşımıza çıkan kullanıcı adı şifre geçersiz uyarısının çözümü için neler yapabileceğimizi aşağıdaki adımları uygulayarak gerçekleştireceğiz.
Symptoms:
————————-
Failed to connect
————————-
There was an error when trying to connect. Do you want to retype your credentials and try again?
Details: Filename:\\?\C:\Windows\Microsoft.Net\Framework64\v4.0.30319\CONFIG\machine.config
Resolution:
C:\windows\system32\inetsrv\config dizininde yer alan redirection.config dosyasında yer alan true yazan satırı false yaptığımızda tekrar shared config yapısına doğru kullanıcı adı şifreyi girerek sorununuzu çözebilirsiniz.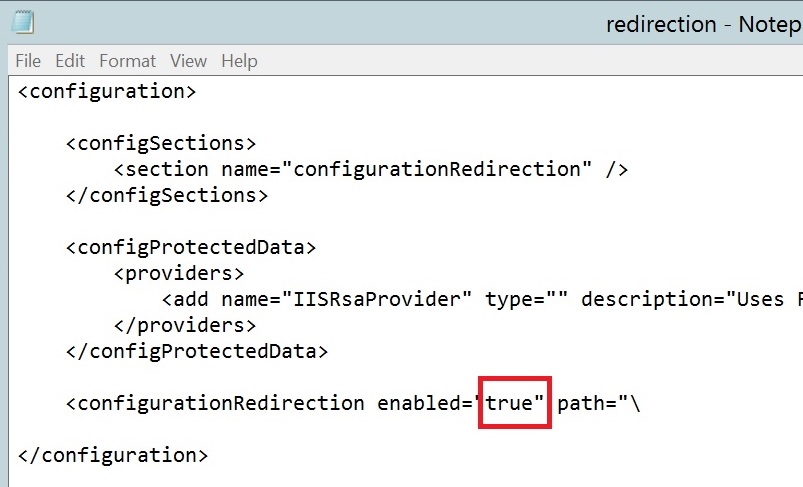 2 seçenek ise yine  redirection.config dosyasında yer alan aşağıdaki satırı silerek tekrar shared config yapılandırmanıza doğru ve kullanıcı adı şifreyi girdiğinizde sorununuz çözülecektir.
<configurationRedirection enabled="true" path="<path to shared config>" userName="username″ password="[enc:IISRsaProvider:57686f6120447564652c2049495320526f636b73:enc]" />
her iki seçenekten birini kullandığınızda iisreset yapmayı unutmayınız.